A global student, take your study onto the world stage
Ritsumeikan University (RU) is a leading university in the Kansai Region of Japan. As one of the Top Global Universities selected by the Japanese Government, RU has been pushing forward by leading in innovative breakthroughs and showing examples of a globalized Japan.
RU has 16 colleges and 20 graduate schools with around 35,000 active students participating across 4 campuses in 3 prefectures, states in Japan. RU is a comprehensive university with roots in Kyoto since the 1900s. Beginning on 2010, RU has started development in providing English-medium programs to further provide opportunities for students across the world to access Japan's leading and world-class research. Year on year, RU's student base grows with diversity, as currently we have students from 76 countries across the world.
5 English-medium programs are available to students. With options for both April and September enrollment, RU opens the door for students from different countries and different graduation periods to partake in a globalized community in Japan. Beginning with the Global Studies Major, RU has expanded into the Community and Regional Policy Studies Major, and the Information Systems Science and Engineering Course.
In 2018, on the 30th Anniversary of the College of International Relations together with American University, released the world's first Joint-Degree program. A degree that crosses the Pacific Ocean with aims to educate the world's leaders and experts in International Relations.
In 2019, the College of Global Liberal Arts was born in collaboration in a special college-wide dual degree program with one of the world's leading university, The Australian National University. Students accepted into this college will be challenged to be the leaders of the changing future.
Come see and join Ritsumeikan University, through their programs and become a global citizen.
School Address:
56-1 Toji-in Kitamachi, Kita-ku, Kyoto 603-8577 JAPAN (Kinugasa Campus)
1-1-1 Noji-higashi, Kusatsu, Shiga 525-8577 JAPAN (Biwako-Kusatsu Campus)
2-150 Iwakura-cho, Ibaraki, Osaka 567-8570 JAPAN (Osaka Ibaraki Campus)
Tel:(Japan) +81-(0)75-465-8162
Introduction videos from Ritsumeikan University
Click here to watch more videos on their Youtube channel
Click here to watch more videos on their website
Photo Gallery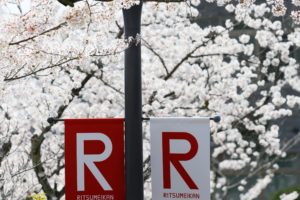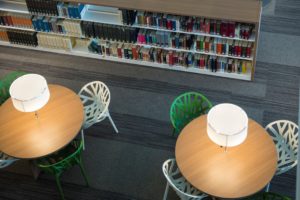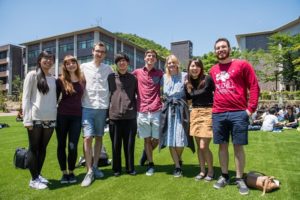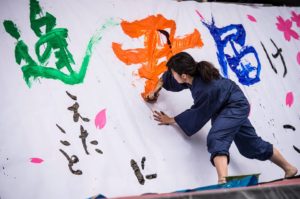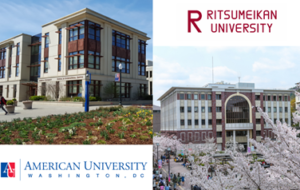 Application Requirements / Open Campus Information for International Students
Enrollment
April and September
English-only Admission
Available

Courses in English
Available
Faculties that can be completed with English-only lectures
Available
Courses that can be completed with English-only lectures
Available
Scholarships for Non-Japanese Students
Available
Dormitories
Available
Entrance Exams for International Students
English Basis AO Admissions
→See here for details
Entrance Exams for Returnees
English Basis AO Admissions
→See here for details
Entrance Exams that are available overseas
English Basis AO Admissions
→See here for details
Click for Open Campus Information
Click here to download ducuments/applications
Support Center
Ritsumeikan covers a variety of support in different areas. Each College has their support staff that are stationed to assist students with selecting courses and units. College of Global Liberal Arts has the Academic Advising Center with support directly from Faculty. For support in accomodation and general life on campus, each campus has an International Office with multilingual staff providing advice on life in Japan. Our Career Centers also provide multilingual support for Junior and Senior students for their next phase in life of career. Amongst the students, there are Oritors in each colleges with seniors helping juniors, juniors helping sophomores and sophomores helping freshmen during their life at the colleges. There are also student buddies for the International students needing more assistance with things in life in Japan. Students in the English-medium programs are all close cohorts that also benefit from supporting each other.
Click here to see the student blog
※Please check the website prior to contacting us.
※Please provide as much detail as possible.